Heineken pulls 'Sometimes lighter is better' ad after
racism claims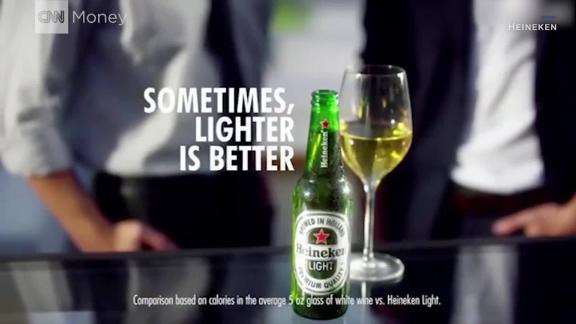 Heineken said Monday it has pulled an ad with the tagline "Sometimes lighter is better" after critics slammed it as racist.
The ad features a bartender sliding a bottle of Heineken Light to a woman. The bottle travels past several black people before arriving at the paler skinned woman.
The clip came under fire on social media. Hip-hop star Chance The Rapper called it "terribly racist" on Twitter on Sunday evening and other users agreed with him.
"What idiots do they have approving this ad? Fire that person," tweeted Helen Ehrenhofer, who identifies herself as a former communications manager.
Heineken (HEINY) responded late Monday by pulling the ad from TV and the internet.
"While we feel the ad is referencing our Heineken Light beer, and that light beer is better than other high-calorie options — we missed the mark, are taking the feedback to heart and will use this to influence future campaigns," said Heineken USA spokesman Bjorn Trowery.
Last year, Pepsi pulled a controversial ad staring Kendall Jenner that was accused of appropriating the Black Lives Matter movement and using social justice to sell soda.
In October, Dove apologized for a Facebook post promoting its body wash that used a 3-second GIF of a black woman removing a dark brown t-shirt to reveal a white woman. It was introduced with the line "Ready for a Dove Shower?"
And in January, H&M set off a huge outcry by using a black child to model a sweatshirt with a "coolest monkey in the jungle" slogan. The retailer apologized and removed the item from its website.
Heineken had previously navigated sensitive issues more successfully.
In the aftermath of the Pepsi ad controversy last year, the beer brand was praised for an ad entitled "Worlds Apart" that addressed gay rights, climate change and feminism.
"For decades, Heineken has developed a positive track record for creating marketing that shows there's more that unites us than divides us," Trowery said Monday.