Biden's VP pick: Why Kamala Harris embraces her biracial roots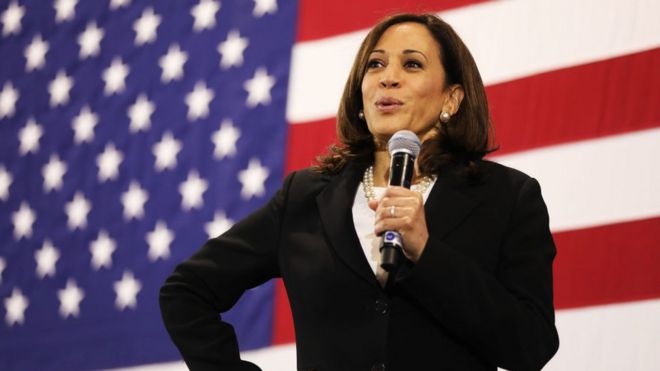 US Senator Kamala Harris – chosen by Joe Biden as his Democratic vice-presidential candidate – is known as a prominent black politician. But she has also embraced her Indian roots.
"My name is pronounced "Comma-la", like the punctuation mark," Kamala Harris writes in her 2018 autobiography, The Truths We Hold.
The California senator, daughter of an Indian-born mother and Jamaican-born father, then explains the meaning of her Indian name.
"It means 'lotus flower', which is a symbol of significance in Indian culture. A lotus grows underwater, its flowers rising above the surface while the roots are planted firmly in the river bottom."
Early in life, young Kamala and her sister Maya grew up in a house filled with music by black American artists. Her mother would sing along to Aretha Franklin's early gospel, and her jazz-loving father, who taught economics at Stanford University, would play Thelonius Monk and John Coltrane on the turntable.
Shyamala Gopalan and Donald Harris separated when Ms Harris was five. Raised primarily by her Hindu single mother, a cancer researcher and a civil rights activist, Kamala, Maya and Shyamala were known as "Shyamala and the girls".
Her mother made sure her two daughters were aware of their background.
"My mother understood very well she was raising two black daughters. She knew that her adopted homeland would see Maya and me as black girls, and she was determined to make sure we would grow into confident black women," she wrote.
"Harris grew up embracing her Indian culture, but living a proudly African-American life," wrote the Washington Post last year.
When she ran for a senate seat in 2015, the Economist magazine described her as the "daughter of an Indian cancer researcher and a Jamaican economics professor, she is the first woman, first African-American and first Asian attorney general of California".
The 55-year-old senator says she has not grappled with her identity and describes herself simply as "an American".
In many ways, say people who know her, Ms Harris straddles both communities effortlessly.
In a video with Indian-American comedian and actress Mindy Kaling, posted to the senator's Youtube page during Ms Harris's presidential run, the two cook Indian food together and chat about their shared south Indian background.
Kaling says that while not everyone knows about that half of Ms Harris's heritage, other Indian-Americans she meets often bring up the fact.
"It's like our thing we're so excited about, to have you running for president," says Kaling.
Kaling asks Ms Harris whether she was raised eating south Indian food.
Ms Harris reels off names of Indian dishes made at home: "Lots of rice and yogurt, potato curry, dal, lots of dal, idli".
She also says when she visited her mother's home in India, her grandfather would cheekily ask for French toast – made with eggs – when her vegetarian grandmother was out (in India, eggs are considered non-vegetarian).
In her book, she writes about making Indian biryani – and spaghetti Bolognese – at home.
When Ms Harris got married to Douglas Emhoff, a lawyer, in 2014, "in keeping with [our] respective Indian and Jewish heritage", she put a flower garland around her new husband's neck and he stomped on a glass.
Ms Harris's public image has been more tied to her identity as an African-American politician, especially recently during the current conversation around race and the Black Lives Matter movement in the US.
But Indian-Americans also view her as one of their own, her candidacy suggesting a potential wider recognition of the Indian and South Asian communities in the country.
It is clear that her late mother was a big inspiration for Ms Harris. Gopalan was born in the southern Indian city of Chennai, the oldest of four children.
She graduated from the University of Delhi at the age of 19, and applied to a graduate programme at Berkeley, "a university she'd never seen, in a country she'd never visited".
She left India in 1958 to pursue a doctorate in nutrition and endocrinology, and later became a breast cancer researcher.
Ms Harris writes that her mother was expected to return home after completing her education, and to agree to an arranged marriage.
"But fate had other plans."
She met Kamala Harris's father and fell in love at Berkeley while participating in the civil rights movement.
"Her marriage – and her decision to stay in the US – were the ultimate acts of self-determination and love," Ms Harris writes.
Gopalan picked up her doctorate degree at age 25 in 1964, the same year Ms Harris was born.
Ms Harris writes her mother kept working right up to the moment of delivery of both her daughters – "in the first case her water broke when she was at the lab; and the other while she was making apple strudel".
Back in India, Gopalan had been raised in a household of "political activism and civic leadership".
Her grandmother never attended high school, but was a community organiser taking in victims of domestic violence and educating women about contraception. Her grandfather, PV Gopalan, was a senior diplomat in the Indian government who lived in Zambia after it gained independence, and he helped settle refugees.
But she writes she is close to her mother's brother and two sisters, with whom she kept in touch through long distance calls and letters and periodic trips. Ms Harris's mother died in 2009, at age 70.
US Democratic Party activists like Shekar Narasimhan says her candidacy would be "seismic" for the Indian-American community. "She's a woman, she biracial, she will help win the election for Biden, she appeals to various communities and she's really smart."
"Why should Indian-Americans not be proud of her? It's a signal that we are coming of age."